TAG IT. RING IT. FIND IT. NEVER LOSE IT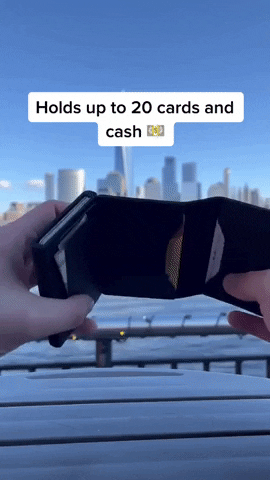 NEVER LOSE YOUR WALLET AGAIN
Introducing AirTag Smart Wallet: A slim, RFID blocking wallet that's trackable.
Within a click of a button, you're able to locate where your wallet is.
Simply tag it, ring it, and find it within seconds.It is the solution for those who tend to lose their important belongings more than others. Just use your phone to ring your stuff, or see where you last had it on a map.
REDEFINING SLIM LAYOUT
Traditional wallets are bulky and always get packed with unnecessary receipts and expired cards. This sleek, modern, and slim leather design allows you to carry less but always have what you need while remaining safe and compact. It's the perfect wallet for any occasion.
INSTANT ACCESS
Our advanced trigger mechanism makes it easy to quickly access your cards. With just a push of a button, you can seamlessly access your card of choice. Easily store up to 14 cards & bills.
PREMIUM CRAFTSMANSHIP
Each wallet is handmade & crafted with precision to ensure you're getting the most premium wallet you've ever experienced. Our wallets are made using environmentally certified leather that is durable and built to last.