U-Shape Toothbrush

Turn the teeth brushing into a fun and stress-free routine. Ergonomic U-shaped brush head, uniquely designed for children's tender gums and sensitive teeth.


Soft pacifier grade silicone, providing a comfortable feeling of brushing, effective deep cleaning, will not harm the gums and protect children's enamel.


The cute koala design of the toothbrush makes children more interested in brushing their teeth with their new little friend. This helps to develop positive and consistent brushing habits.
Easy-grip handles provide comfort and control, cute colors to increase your child's interest in brushing. Safe, and convenient to use at home or in travel.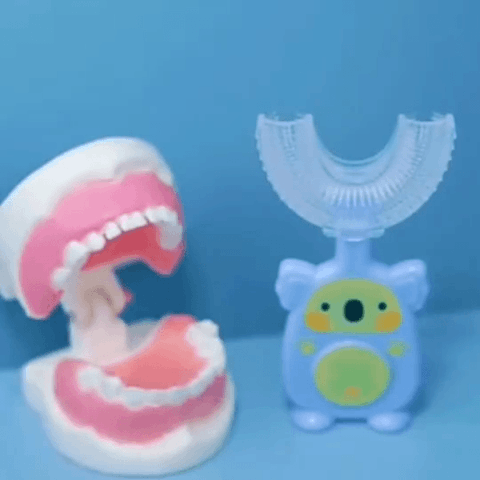 The U-Shape toothbrush is great as an infant teether for babies as well. It helps the kids to ease the teething pain and teaches them the habit of brushing their teeth later on.
Our unique U-shaped toothbrush has been specifically designed to be so much better than a regular toothbrush. It is gentle on the gums and teeth, making brushing without the pain. It covers all teeth at the same time which makes brushing faster for kids and parents.

Kids - the toothbrush kids WANT to use!
WHY PRO?
Level up your kiddo's brushing routine with extra features that make all the difference.
Functional blue & red LED lights: Keep your little brushers engaged with fun and safe LED lights therapies that help fight off bacteria and gum inflammation.

3 timer modes & cleaning modes: Customize your kiddo's brushing routine with 3 timers including 30 and 60 seconds with music and 60 seconds without music + choose between 3 cleaning cycles including care, deep clean, and massage mode.

Whole mouth brush head: Never miss a spot! Our clinically proven mouthpiece cleans all surface areas of teeth equally (even those back molars!)