Are you always worried your phone is being peeked on?
That your mobile banking and payment information will be seen and taken? Afraid that someone always has eyes on your phone screen when you're in public?
We made the perfect solution. Keep all sensitive information protected and secret. Your phone will never be peeked on by others with our Magnetic Stealth Phone Case. A high-grade fully protective case with anti-spy privacy technology all in one! What's not to love?
We know how important privacy is so we made a highly protective case that keeps what's on your screen for your eyes and your eyes only!
This case applies microlouvre optical technology to block side views and fully blacken the screen on your iPhone. It's only visible to people who directly face the screen. Piaogeus™ securely protects your information including bank info, passwords, photos, chat messages, videos, or anything you are viewing.
Edge-to-edge 9H grade tempered glass with a full metal frame provides 360° full protection for your device with excellent anti-scratching, dust-free, and bubble-free properties.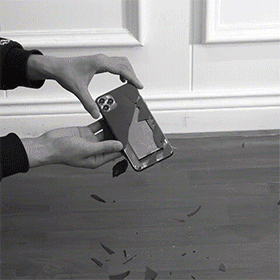 FEATURES
100% FULL PRIVACY Specially designed for those who want to keep their personal and sensitive information safe from being peeped at by strangers. Feel safe to enter passwords, view bank info, photos, chat messages, and videos in public areas.
STRONG MAGNETIC ABSORPTION With multi-point magnetic adsorption technology, the metal frame automatically snaps into place for the easiest and quickest installation.
IDEAL VISIBLE RANGE The screen can only be seen from the front within 45° from the sides after applying this case.
9H TEMPERED GLASS Engineered with 9H hardness tempered glass with anti-fingerprint, anti-scratching, and dust-free features.
360° FULL FRAME PROTECTION CASE Designed with precise cutouts to fully cover while fitting perfectly with all the ports and buttons on all iPhone models with no signal interruption.
ANTI-FINGERPRINT Coated with a hydrophobic and oleophobic clear layer, the glass protects against sweat and oil residue from fingerprints and keeps your phone screen pristine all day long.
EASY INSTALLATION The magnetic and adhesive-free design prevents bubbles caused by traditional adhesive phone cases.
NON-BLOCKING Designed without blocking any wireless signals, such as GPS, Wi-Fi, or data and reception. The case is also fully wireless charging supported.
Don't Be Afraid! Our powerful technology will protect you in every aspect of privacy!